Using SLIMs

6-13-08, This page is in progress. Much to be added.
11-22-08, Updated with more good poop.

11-29-11, Added more good poop on how to fence a module.
I offer this page as a general guide for the builders of the SLIM MSA. It is relevant for building any circuit, not just the SLIMs. I will add items to this page as time goes on.
Topics Covered on this Page
Prevent Trouble
Static Electricity Precautions
Wiring Interconnections
RF Connector Installations
Direct Coaxial Cable Connections
Fencing and shielding
Component soldering
Component Cleaning
Component removal
Measuring Power and Voltage
Nice to know Links:
Types of
RF Connectors
with pictures.
Prevent Trouble
When a proven design is built, there are only two reasons why it won't work.
One or more components are bad from the manufacturer. Very unlikely! Or, the builder screwed it up. Highly likely! To prevent this, I will discuss a few things that will save you much grief.
Here are the most common construction errors and how to avoid them.
1. Bad solder connections
Almost all of the parts used in the SLIMs are surface mounted devices, SMD's. When they come off the assembly line, they are perfect and ready to be used. However, they can sit on a shelf for a long period of time before you use them. Their solder connections can become corroded, or tarnished, and will reject a good solder flow. Use a good magnifying glass when installing components. Look closely at their solder connection points. If there is any doubt as to their cleanliness, use some type of burnisher to clean them until they shine. I like to use a pencil erasure. Do not use any chemical that may leave a residue. I like at least 90 per cent isopropyl alcohol. And for goodness sakes, DO NOT blow on an alcohol-wet part to dry it. It will absorb the moisture in your breath and leave water marks. This includes circuit boards. Check out your local pharmacy. I found 99% isopropyl at Safeway, and Tom Thumb supermarkets.
2. Wrong part in wrong position
A good carpenter will tell you, "measure twice and cut once". I suggest you make doubly sure you are installing the correct part. Make sure the polarity is correct. And certainly, make sure the component is installed on to the correct pads. The SLIM's pwbs do not have a silkscreen layer with markings for components. However, each SLIM has a document called LAYSLIM-xx-yy. It is the only document to be used for placing parts in the correct position.
Make absolutely sure the part is the correct part. Almost all chip capacitors and inductors look alike. Unless you trust your parts vendor (I don't), measure these parts with your trusty AADE L/C meter.
3. Destroyed parts
SMD's are not only small, but usually quite brittle. Do not use excessive force when installing or removing these devices.
Also, electrostatic discharge (ESD) can destroy a component without you knowing it. Install your components in a good ESD environment. See paragraph relating to Static Electricity Precautions.
4. Solder bridges
Too much solder is just as bad as not enough solder. Usually, solder bridges between component pins are very obvious. But, if signal traces are running under a component, solder bridging can occur without them being seen. Once the soldering process is completed, use a good magnifying glass or microscope to inspect each and every solder joint. You cannot inspect a joint too many times. Believe me, multiple inspection is not a waste of time.
Static Electricity Precautions
I won't beat this subject to death. I will just give you a hint for a simple static free work area. For a very easy and cheap working surface, use an aluminum cookie sheet. It must be untreated and unpainted. (not teflon). Fabricate a length of hook-up wire with alligator clips on each end. Clip one to the cookie sheet, the other to the ground of your test equipment or soldering iron base.
Wiring Interconnections
Power and Signal Interconnections between SLIMs are multipin wiring. I standardized the multipin connectors as .1 inch spaced, vertical pin headers. They can be purchased in strips of 36 pins, and cut to the preferred length. As an option, headers can be deleted, and point to point wires can be directly soldered. For direct soldering to the header pins, the Tin plated headers (that are called out in the parts lists) are fine. If gold plated female mating connectors are preferred, then substitute gold plated header pins for the modules. I do not recommend using any mating connector that is not gold plated.
RF Connector Installations for SLIMs
If an RF connector is installed, the center hole must be drilled out to the size of the center post of the RF connector. This hole size varies among connectors, but .035 inch is common. The bottom center pad is allowed to be destroyed, since the 0.080 pad on the top component layer will be soldered to the center pin. On the bottom, if there is little, or no, clearance from the center hole to ground, the clearance can be widened by grinding the ground area away, using a large (sharp) drill bit. This makes a "V" shaped gouge around the center hole, without widening the via hole on the top surface. If the RF connector has ground lugs, they must be cut off flush to the base, with a Dremel type tool. The RF connector is then placed flush to the ground plane and the base soldered around it's perimeter. This is actually a better RF ground connection than with ground lugs and mounting post holes.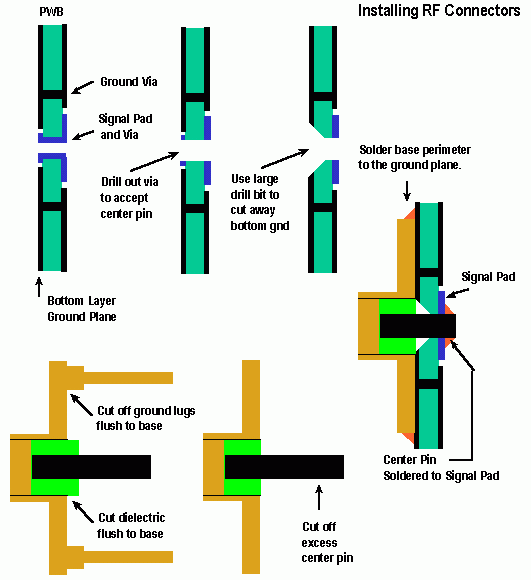 In this diagram, notice the comment "Cut dielectric flush to base". When the connector is heated during the solder process, the dielectric will swell and expand. This will cause the connector to push itself away from the pwb. It is a good idea to pretreat the connector before installing on the pwb. Do this by heating the connector and allowing the dielectric to expand. While it is still hot, use a sharp blade to cut the dielectric flush to the base. When it cools, the dielectric will retract, leaving an internal gap. Then, when the connector is soldered to the pwb, the dielectric will expand again, but only to the plane of the connector's base.
Direct Coaxial Cable Connections
I have created a somewhat, unorthodox way of coaxial cable interconnections. Normally, RF connectors are mounted on the bottom of the SLIM. However, due to limited real real estate, many RF pcb connectors need to be modified. And, since RF pcb connectors are a major expense, I have created a way to connect coax directly to the board, while retaining excellent RF characteristics.